As a part of Keeper's core offering, FIDO U2F and YubiKey support will now be available to our individual users and enterprise accounts. With our mission to make the internet secure for everyone we are thrilled to partner with these world class companies to deliver the highest level of security to our customers. The feature is immediately available to all Keeper customers and provides the added protection and security of hardware 2FA for their critical accounts.
FIDO U2F Security Keys are small USB and NFC hardware 2FA devices that can instantly be added to secure Keeper accounts. Once a device is registered, when prompted for the second factor during login to Keeper, a user simply has to touch the device to authenticate and gain access. The YubiKey supports multiple authentication protocols and can protect access to a wide range of consumer and enterprise applications. A single YubiKey can perform authentication to FIDO U2F supported services (Facebook, Google, Dropbox, GitHub, Salesforce, etc.), password managers such as Keeper, Windows login (including Windows Hello), remote access, IAM, VPN and much more. The YubiKey works on Microsoft Windows, Mac, Linux, and on major browsers without the need for extra software or drivers.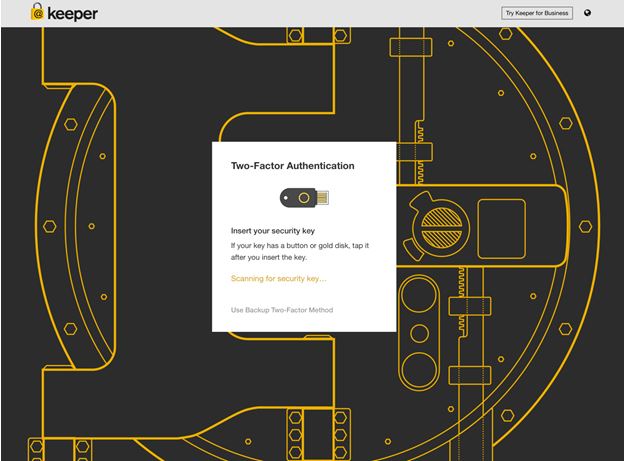 ABOUT KEEPER SECURITY, INC.
Keeper Security is transforming the way businesses and individuals protect their passwords and sensitive digital assets to significantly reduce cyber theft. As the creator of Keeper, the leading password manager and digital vault, and KeeperChat, the world's most secure messaging app for all your devices, Keeper Security helps millions of people and thousands of businesses substantially mitigate the risk of a data breach and at the same time, enhance productivity. Keeper is a global innovator of zero-knowledge security software. Keeper is SOC-2 Certified and utilizes best-in-class encryption to safeguard its customers worldwide. Keeper protects businesses of all sizes across every major industry sector. Learn more at https://www.keepersecurity.com and https://keeperchat.com.