Cyber Week Sale: 50% OFF Keeper Plans and Add-Ons! Ends Friday.
Save Now
Opera Password Manager
If you use the Opera browser or Opera GX gaming browser on your computer or phone, you'll want Keeper as your password manager. Opera users everywhere protect passwords and private data with Keeper, the world's most-downloaded secure password manager and digital vault—and for good reason.
With Keeper as your Opera password manager, you can generate, store, and autofill strong passwords on all the devices where you use Opera, while also protecting your private documents. Don't let cybercriminals in the door. Get Keeper.
Nurses, Doctors, Hospital Employees, Military and First Responders. Get 30% Off. 1-Year Plans.
Verify at Checkout
Four reasons to use Keeper as your Opera Password Manager:
Keeper helps you easily generate and store strong passwords everywhere you browse with Opera.
Keeper's autofill feature makes signing into websites easier across all your devices, without compromising security.
Keeper for Opera helps you protect confidential files, photos, and videos in a secure, encrypted vault.
Keeper lets you securely share individual passwords or files with family and people you trust (you can also assign individuals who can access your account in an emergency).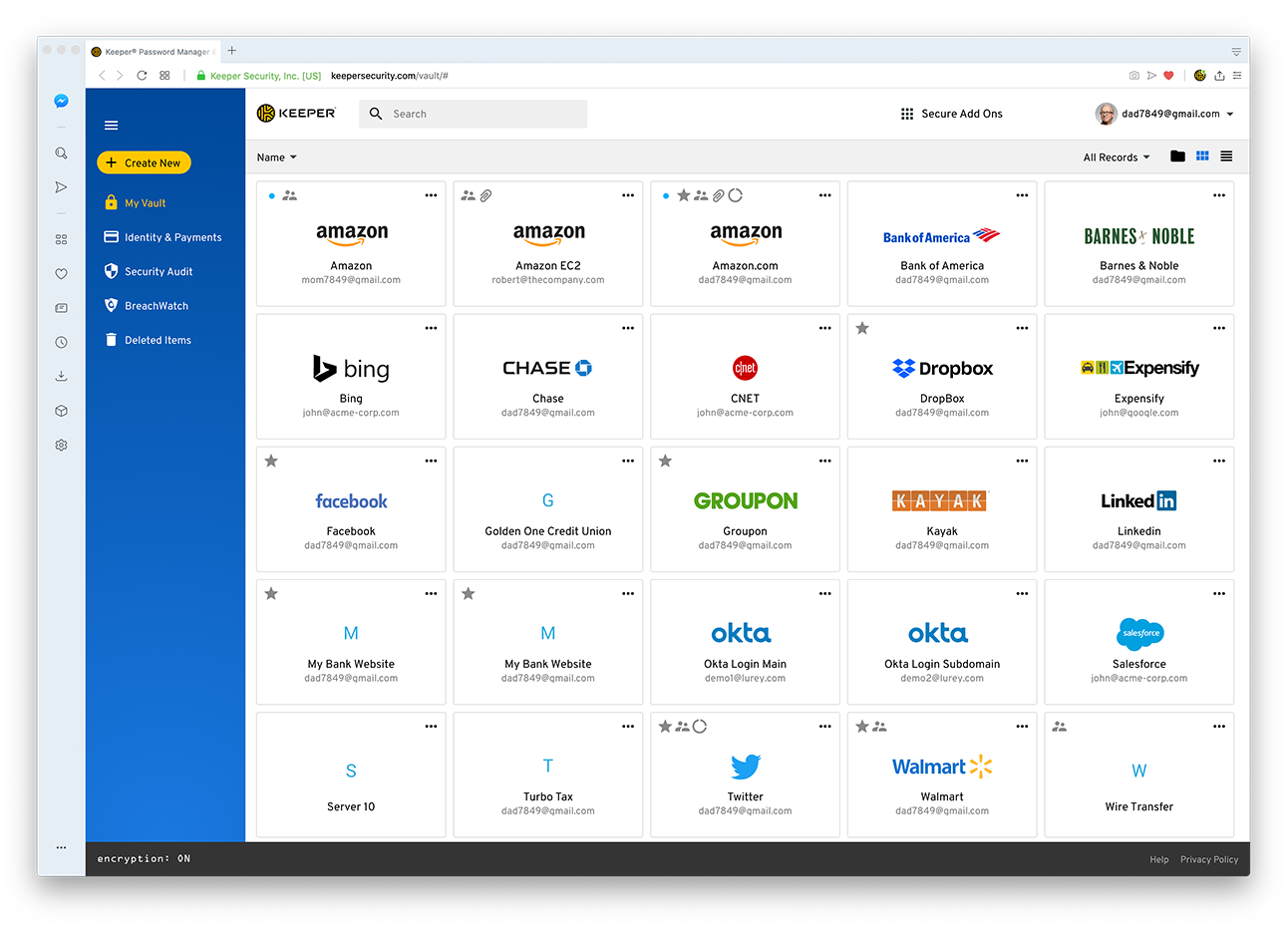 How does Keeper work with Opera?
The Opera browser supports the installation of Keeper's Chrome extension, so you'll simply install the 'Chrome Extensions' add-on from the Chrome Web Store. When you use Keeper and Opera together, you don't have to remember and manage all your different passwords. Instead, you'll choose a single strong master password that is used only for Keeper. From there, Keeper does all the work, providing a secure and convenient way to manage Opera passwords and logins and to secure your credit card numbers, bank accounts and other personal information on connected devices.
Opera users can also use Keeper to protect and securely access data such as answers to security questions, PINs, and the account numbers you use while you're browsing the web with Opera. You can also securely store important files such as key financial documents in your Keeper vault. At the same time, you can easily share files and records with family members or other trusted parties using Keeper.
Why use KeeperFill® for Opera?
You don't want to let your guard down when it comes to cybercriminals and password security. At the same time, memorizing complicated random strings of characters isn't practical. To balance convenience and security, you need a strong system for managing passwords on Opera. Because without it, cybercriminals can access your identity, your money, your private information and more.
While security-minded web users appreciate Opera's built-in ad blocker and VPN security, to ensure the most secure and seamless password protection possible, you'll want to use KeeperFill instead of the Opera autofill extension to save passwords across your devices. KeeperFill automatically generates strong passwords and lets you confidently autofill address and credit card information stored on your computer. So your Opera browsing experience is even more secure.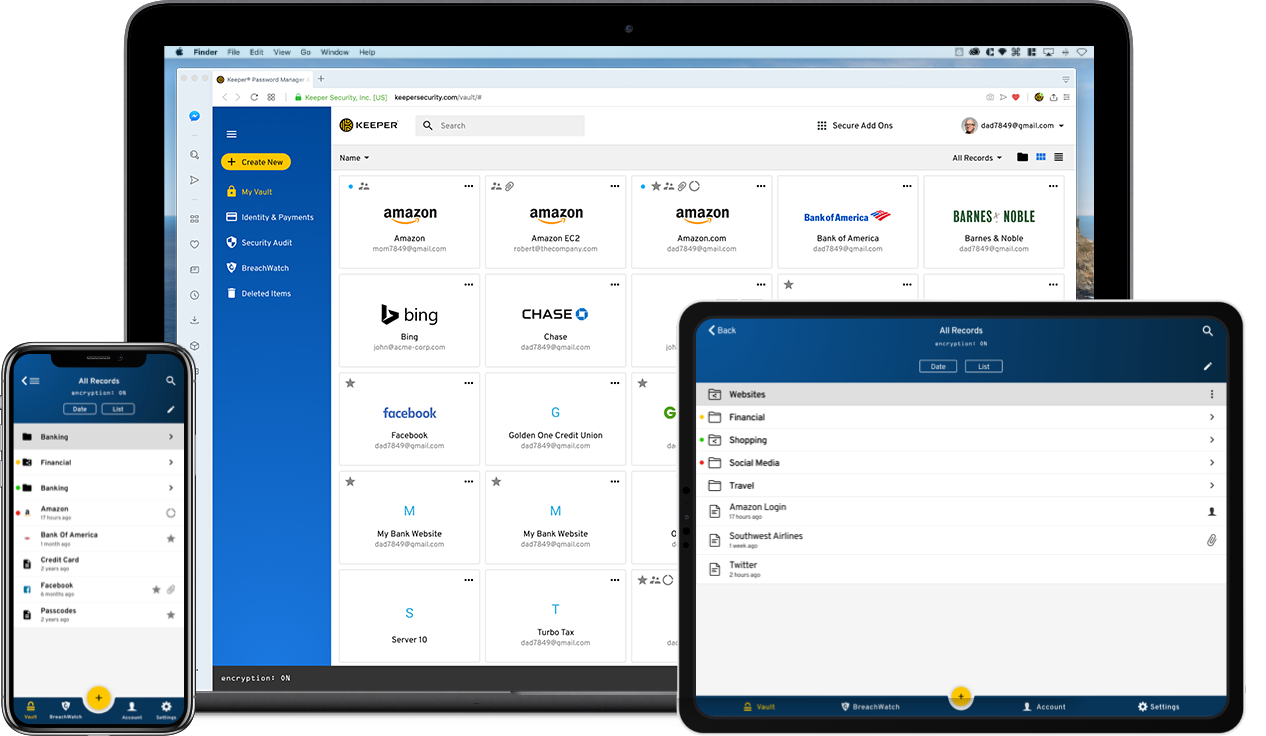 Keep it simple with Keeper
Keeper makes managing Opera passwords easy and straightforward. Using 256-bit AES encryption, Keeper for Opera gives you a secure location for storing passwords and other login information you don't want others to access. Best of all, Keeper works on any device where you use Opera, including your home computers, gaming computers, mobile devices and more.
Anywhere you use Opera to browse the web, you'll want the protection of Keeper:
Every Keeper user is given a secure and private vault, protected by our zero-knowledge security architecture and multiple levels of encryption. Each Opera user's vault is guarded by a master password which is created by the user. And with Keeper as your Opera password manager, you can deploy a variety of types of two-factor authentication methods.
Keeper easily generates passwords inside your personal vault; creating a unique and strong password to each website you access via Opera is critical to limiting the risk of theft.
KeeperFill brings you an easy-to-use and robust autofill feature. In addition to autofilling passwords, it saves new Opera passwords to the vault as you type.
Keeper's Security Audit feature helps you identify which accounts on Opera require a password update and can generate a strong password for you with a single click.
Keeper protects your confidential files with elliptic curve encryption. Easily add files, photos, and videos to your vault and organize them into folders.
Share Opera passwords or files directly with another Keeper user or with a group of people you trust.
Keeper uses multiple layers of encryption by storing your data in our secure cloud. Competitors use partial encryption on the cloud or rely on third parties for password storage. With Keeper, your information remains 100% encrypted, 100% of the time.
Opera password management made easy
Join the millions of people who use Keeper's world-class security to safeguard their personal information from cybercriminals.
Protect unlimited Opera passwords in your vault
Generate and autofill strong Opera passwords
Access and sync Opera passwords from any of your devices (phone, tablet, computer)
Lock files and photos in your secure vault
Use Keeper to securely share Opera passwords and files with people you trust
Store your credit and debit card information securely
Integrate with two-step verification providers (SMS, Google or Microsoft Authenticator, Duo Security, or RSA SecurID)
Utilizes AES-256-bit encryption and PBKDF2 technology