Generate New Revenue and Improve Security with a Modern Privileged Access Management Solution (PAM) as a Service
Provide industry-leading Zero-Trust secure access management to your organization and customers with KeeperMSP.
Grow your Business and Protect your Customers by Partnering with Keeper
KeeperMSP is the most secure cybersecurity and password management platform for preventing password-related data breaches and cyberthreats. Designed exclusively for Managed Service Providers (MSPs), KeeperMSP provides a powerful and easy-to-use platform enabling you to protect your customers' and your own passwords and sensitive data in secure, encrypted vaults. You can provision, manage and audit all of your customers from a central admin console, while still maintaining stringent privacy and security policies for all users.
SMBs are the primary attack target for cybercriminals.
0%
of SMBs experienced a cyberattack in 2018
0%
of data breaches are due
to weak password security
$0M
is the average cost of a
data breach
A must-have product for your MSP business
Protect Passwords, Credentials and Metadata
Store and manage your customers' and your MSP's own passwords, credentials, files and private data.
Generate New Revenue Streams
Earn recurring licensing revenue for password security management, monitoring and ancillary services.
Increase Customer Satisfaction
Strengthen your customer relationships by adding high-value, high-margin service to your MSP capabilities.
Enhance Compliance and Reporting
Become a trusted cybersecurity advisor to your customers by gaining visibility into their password security and enforcing robust policies.
A must-have product for your customers
Protects Your Organization Against Ransomware Attacks
Keeper protects your organization against ransomware attacks using robust administration, controls and visibility over strong password security and real-time dark web monitoring.
Enables Secure Sharing of Credentials and Secrets
Keeper allows IT Admins to enable secure, granular and controlled sharing of credentials, secrets and vaults among employees and teams.
Mitigates Risk of Data Breaches
KeeperMSP creates random, high-strength passwords for all of your customers' websites and applications and stores them in a secure vault on all of your customers' employees' devices.
Bolsters Security and Privacy
Each of your customers' employees gets a private, encrypted vault for storing and managing their passwords, credentials, files and private data.
Boosts Employee Productivity
Saves your customers' employees time, frustration and eliminates the need for them to reset, reuse and remember passwords.
Strengthens Compliance Standards
Supports role-based controls, delegated admin, 2FA, auditing, SIEM event reporting and your customers' requirements for industry compliance with HIPAA, DPA, FINRA, GDPR and more.
Best-In-Class Zero-Trust Security Services that Protect You and Your Customers' Businesses
Keeper Password Manager
Zero-Knowledge and Zero-Trust secure credential storage with granular controls and MSP management capabilities.
Keeper Secrets Manager
Secures your customers' environments and eliminates secrets sprawl by removing hard-coded credentials from source code, config files and CI/CD systems.
Keeper Connection Manager
Provides secure remote access for you and your customers into their environments. Access systems effortlessly via RDP, SSH and Kubernetes endpoints through a web browser.
Compliance Reporting
Provides on-demand visibility of access permissions for the organization's credentials and secrets. Supports audits for Sarbanes-Oxley (SOX) and other industry regulations that require access-control monitoring and event auditing.
KeeperChat®
Enables secure, ephemeral messaging across employee devices with the world's most secure messaging solution, protecting communications with end-to-end encryption.
Advanced Reporting & Alerts (ARAM) Module
Empowers InfoSec administrators to monitor more than 100 different security and activity-related event types via customizable reports, real-time notifications and seamless integration into any third-party SIEM solution.
BreachWatch®
Continuously scans the dark web and sends alerts on compromised passwords so that administrators can take immediate action and prevent account takeovers.
Secure File Storage
Taps into Keeper's zero-knowledge encryption to put secure file storage, retrieval and decryption privileges in the hands of approved users only.
Streamline your operations with integration tools for you and your customers. Regardless of the technology stack your customers choose, Keeper has a wide variety of integrations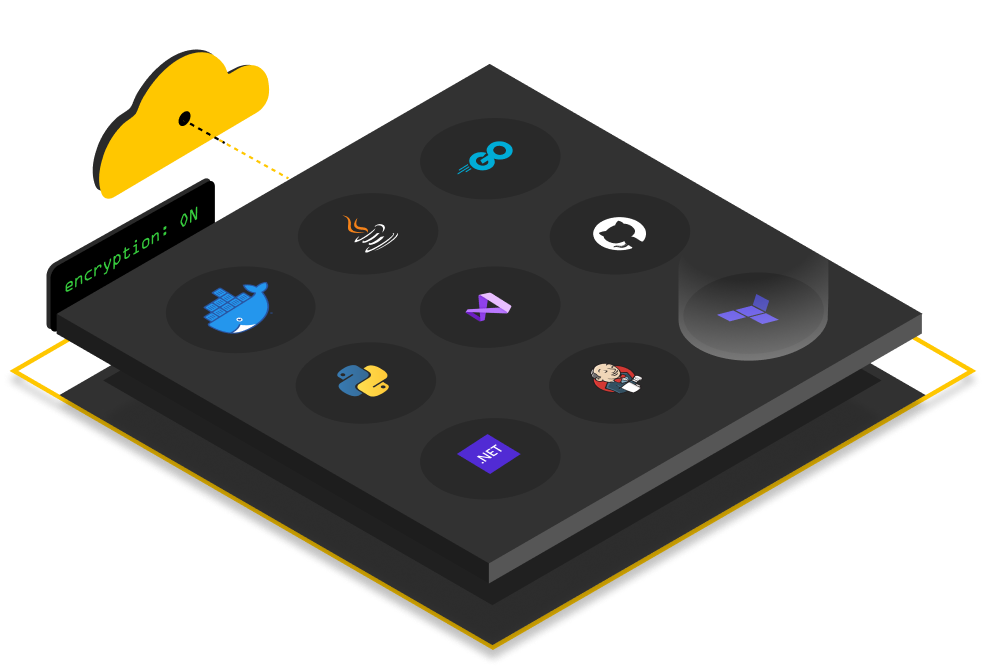 See more details on our integrations
Maximize Revenue and Streamline Your Billing Process
Keeper offers several essential services to scale your business and provides you with scalable, per-user, monthly billing.
Add-on features (i.e., Compliance Reports, KeeperChat, Keeper Secrets Manager, Keeper Connection Manager) can be bundled to meet your unique business requirements and offer a competitive advantage.
Add-on features are billed based on usage so you can trial them with no long-term commitment.
Download the full MSP Overview Guide and Learn More about why your MSP Business needs Keeper