Keeper Secrets Manager Versus Azure Vault
Trust your secrets with the first and only zero-trust, zero-knowledge and cloud-native secrets manager.
Consolidate your secrets in a unified platform with auditability
Manage access rights and permissions with role-based access controls
Automate the rotation of access keys, passwords and certificates
Integrates with all popular CI/CD systems, SDKs for all major programming languages, or access via CLI or API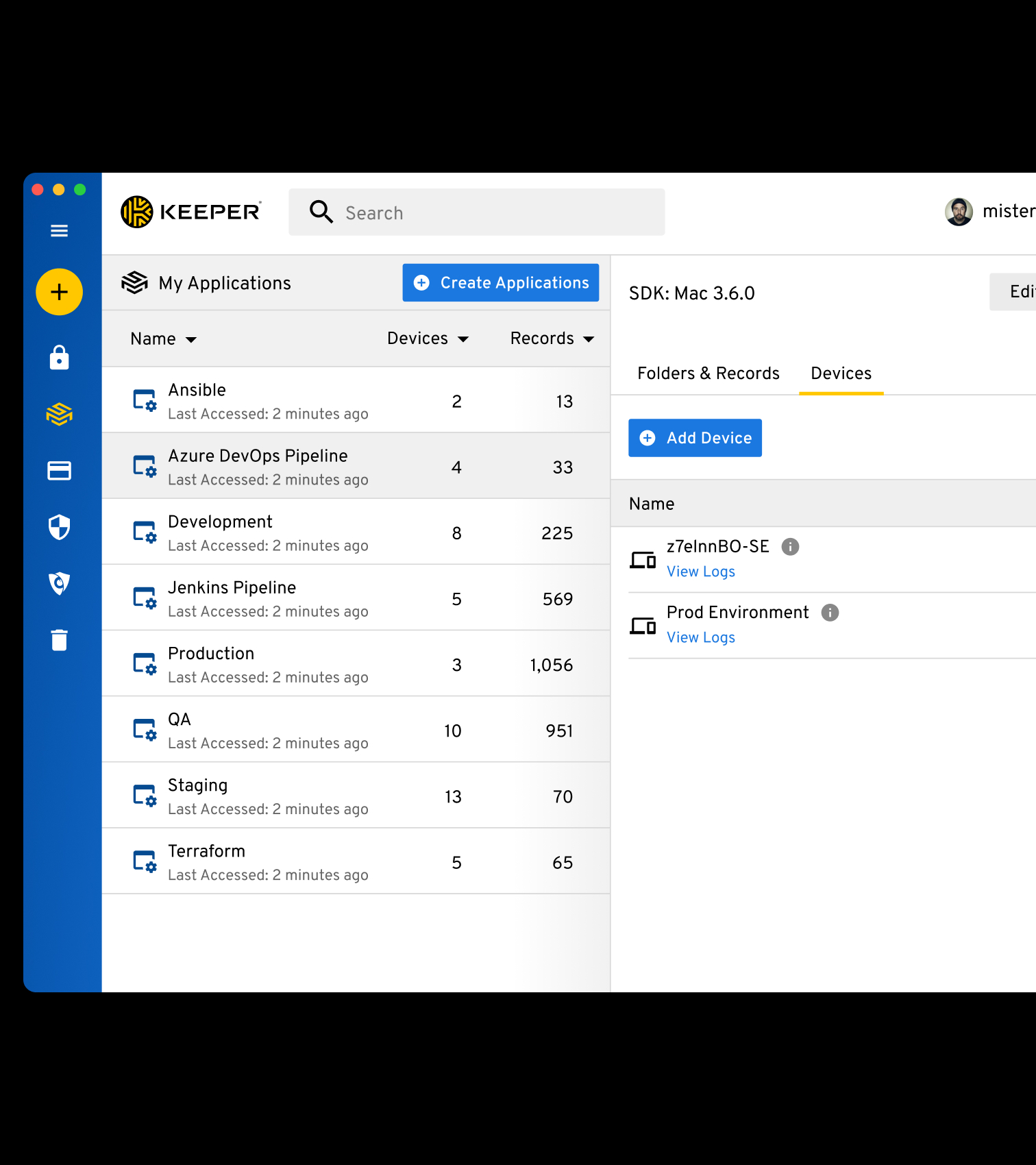 Leave Hosted Infrastructure Behind
Traditional secrets management solutions require hosted infrastructure that doesn't scale with your organization.
Keeper Secrets Manager is a fully-managed service with unlimited scaling capacity – allowing your organization to keep growing without the headache of adding even more infrastructure.
See How Keeper Compares to Azure Vault
While Azure offers hundreds of infrastructure-related services, Keeper is focused on access security, compliance and core use cases around secrets management. Keeper Secrets Manager works across on-premises environments and multiple clouds – giving you much more flexibility.
Below you can see a more in-depth comparison between Azure Vault and Keeper Secrets Manager.
Feature
Keeper Secrets Manager
Azure Vault
Multi-Cloud and On-Prem
Keeper is a fully managed service that can manage secrets in any cloud or location you choose.
Azure Key Vault is purpose-built for Azure, it does not handle AWS/GCP and on-prem credentials.
Works Offline
SDK and Client Devices support caching of Vault ciphertext.
If there is a communications failure either within Azure, or between your infrastructure and Azure, things may fail.
Zero-Knowledge Encryption Model
Client devices decrypt the Vault secrets locally after retrieval. Keeper has no ability to decrypt stored vault data.
Must implement client-side encryption to attempt zero-knowledge.
Zero-Trust Access Model for Vault Secrets
Device is scoped to specific secrets and least permission.
Azure admin roles provide complete visibility to objects which overrides any trust models that have been set up.
Browser Plugins
Web browser plugins available for all popular browsers - e.g. Chrome, Safari, Firefox, Edge.
Easy-to-use browser extensions are rarely available and have limited capabilities.
End-User Web Vault
User-friendly Web Vault available from any location.
Vaults are typically only assigned to privileged users, forcing sharing and cross-team communication to use less secure channels.
Native Desktop Application
User-friendly Desktop application available for Mac, Windows and Linux.
Desktop applications for password management are not available.
iOS App
User-friendly native iOS application available for all users.
No iOS application for accessing vault secrets.
Android App
User-friendly native Android application available for all users.
No Android application for accessing vault secrets.
Mobile App Autofill
Keeper autofills across all mobile web and native applications.
Autofill for mobile apps and sites is not available.
Website Autofill
Keeper can autofill secrets into any website.
Cannot autofill secrets across websites.
Native App Autofill
KeeperFill® for Apps provides native app autofill on Mac and PC devices.
Cannot autofill into native applications.
Dark Web Monitoring
BreachWatch is built into the secrets manager vault for dark web monitoring.
No ability to monitor the dark web for breached secrets.
Personal Vaults for Family Members
Keeper provides a free consumer Family Plan license to all business customers.
Does not offer a consumer or end-user vault.
Show More
Watch Our Quick Secrets Manager Demo
Seamlessly Integrates with Your IT Stack
Integrates with all popular CI/CD systems, SDKs for all major programming languages and supports any type of machine to protect your infrastructure.
Trusted and loved by millions of people
Protect Your IT Infrastructure Against Cybercriminals Today.