Attend a Keeper Enterprise demo and get a FREE 3-year personal plan!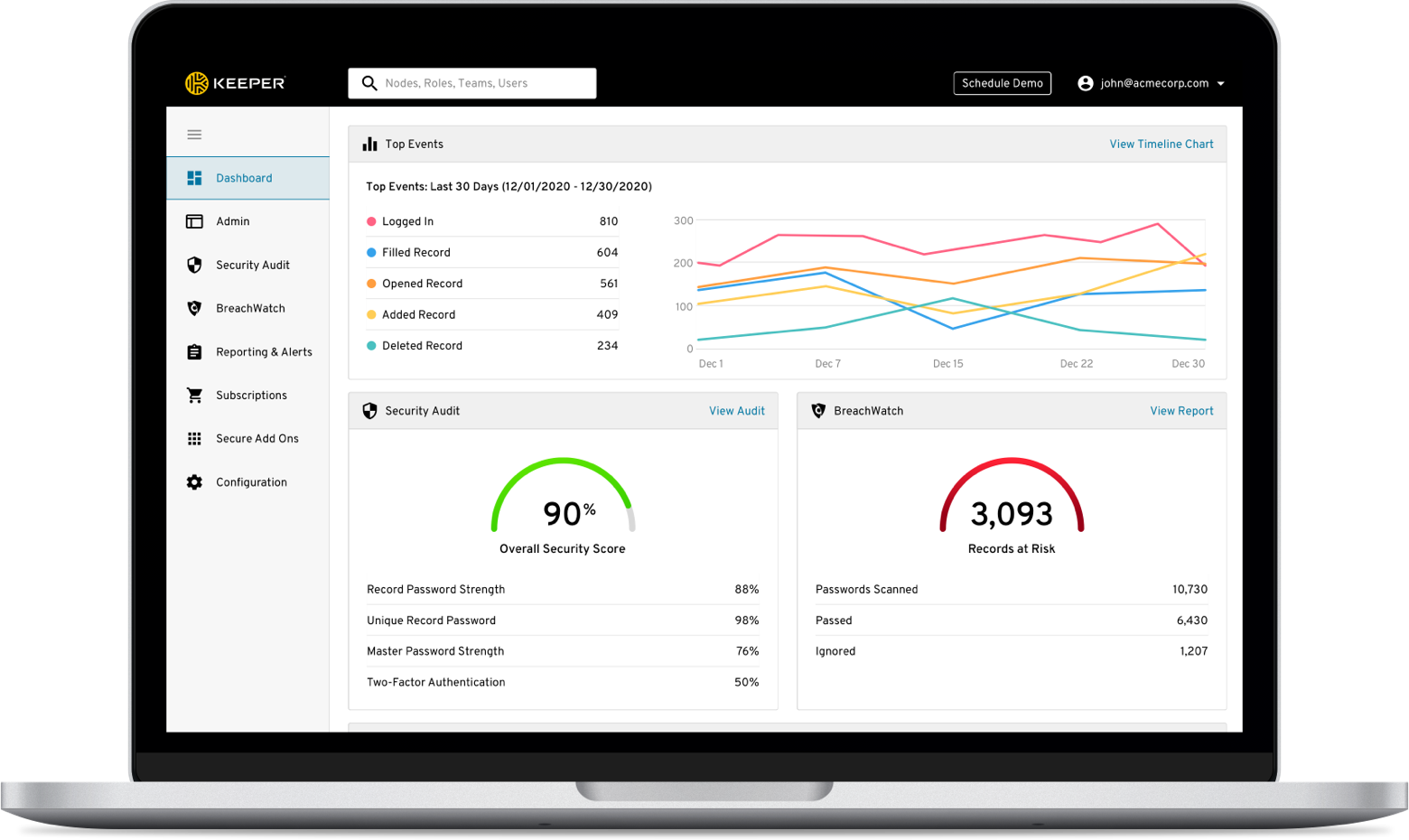 Learn how to protect your enterprise from cyber threats with Keeper and get rewarded!
Take a demo of Keeper Enterprise this month and you'll receive a free 3-year personal plan* (XXX value).
Sign up now and we'll reach out to schedule the demo.
of data breaches are due
to weak password security1
is the average cost of a
data breach2
Trusted by millions of people and thousands of businesses
A few of the many benefits you can expect from Keeper Enterprise:
Mitigates Risk of Data Breaches

Bolsters Security and Privacy

Boosts Employee Productivity

Strengthens Compliance Standards
World-class features that protect your enterprise
Single Sign On (SSO) Integration

Deploy Keeper through existing SAML 2.0-compatible SSO solutions with seamless authentication. Supports popular IdPs such as Microsoft Azure, ADFS, Okta and Google Workspace.

Scalable User Provisioning

Keeper streamlines onboarding through an administrative console and advanced integration with Active Directory, SSO, SCIM and developer APIs.

Hardware Security Module (HSM) Integration

Keeper SSO Connect® fully integrates with on-premise and cloud HSM solutions for added protection of encryption keys.

Share with Colleagues and Teams

Securely create, share and manage both individual records and encrypted folders across teams or individual users.

Role-Based Access Controls

Employee permissions can be fully customised through fine-grained access controls based on the role and responsibilities of team members.

Auditing, Analytics and Reporting

Keeper's Enterprise Password Management (EPM) Platform provides visibility into password practices with robust reporting and auditing tools so you can reduce the threat of cyber breach and maintain compliance standards.

Version Control and Record History

Employees can access a full history of their records, view a previous versions, see what changed and recover those records at any time.

Advanced DevOps Tools

The Keeper Commander SDK provides IT admins and developers with open source code, command-line tools and APIs to perform password management and password rotation functionality.

Secure More Than Just Passwords

Employees can encrypt and store any type of file or metadata in their Keeper Vaults such as private keys, digital certificates, notes, lists, codes, confidential documents and media files.

Separate Business and Personal Vaults

Employees can maintain separate vaults for protecting business and personal information and switch between them with ease, on unlimited devices.
*Eligibility requirements:
You must not be a current Keeper Business or Enterprise customer.
You must attend a Keeper demo by the end of this current month. A "demo" will constitute either a live demo with a sales team member or attendance at a weekly product demo.
You must submit the form on this page prior to attending the demo.
No purchase is necessary for this campaign. After completion of the demo we will reach out to activate your plan.
1IBM Cost of a Data Breach Report 2020 2Verizon Data Breach Investigations Report