Black Friday Sale: Get 50% OFF Personal & Family Plans!
Save Now
CyberWeek Sale: Get 50% OFF Personal & Family Plans!
Save Now
Secure File Storage for Personal Use
Trust Keeper to Protect More Than Just Your Passwords
Why You Need Secure File Storage
Secure file storage is necessary for everyone because it safely stores important documents and allows you to access them when you need to. You can store documents like insurance and loan paperwork, vaccination and other healthcare records, deeds and titles, bank account statements, passport photos and more.
Storing your documents in an encrypted digital vault is not only safe, but it is also convenient. You are able to share the documents with members of your family or provide necessary documents to professionals like your healthcare provider or employer, without putting your information at risk.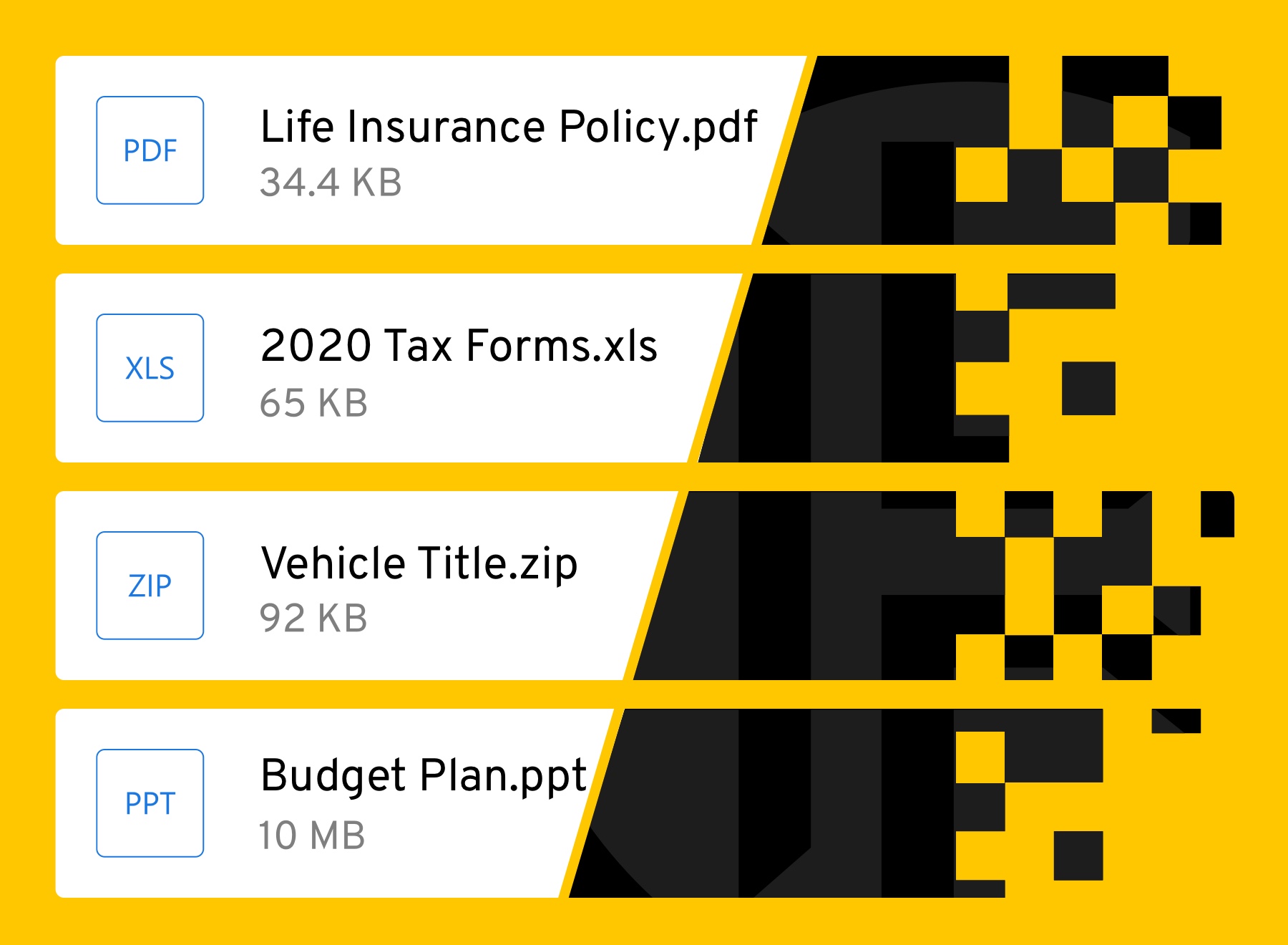 How Keeper Secure File Storage Works
With Keeper Security, you can store more than just your passwords. Keeper's Secure File Storage lets you store and organise private files in your Keeper Vault with full end-to-end encryption and zero-knowledge security. You can quickly upload and store any type of private file, photo or video on all your devices. Our One-Time Share feature allows you to securely share files with anyone, even if they don't have a Keeper account.
The Best File Encryption Software
Advanced Encryption

Our sophisticated technology is zero knowledge, which is the most advanced standard for encryption. Your files cannot be viewed by anyone that you didn't share them with – including us.

Sync Across All Your Devices

Your files can be accessed anywhere you are. With applications for all desktop and mobile systems including Windows, Apple, iOS and Android, you can keep your most important files with you wherever you go.

Securely Share With Others

Unencrypted emails and texts can put your files at risk. Keeper enables secure, vault-to-vault sharing with other Keeper users. Our One-Time Share feature also allows secure, time-limited sharing with people who don't use Keeper. Our encryption ensures only the intended recipient can decrypt and view a shared file.

Easily Protect Your Files From Cybercriminals

In your secure Keeper Vault, your files are protected from malicious hackers, cyberstalkers and thieves. All stored files are protected using our industry-leading encryption keys generated on your device. Simply drag and drop files right into your vault.

Secure Any File Type

Store and encrypt images, PDFs, documents and more. Any type of file can be uploaded to your digital vault.

Streamline Your File Management

Your vault is searchable and you can organise it with custom folders. Make it easy to find the file you need anytime, anywhere – without putting your files or information at risk.
Protect Your Files from Cybercriminals Today.