At Keeper, we're passionate about password protection and we pride ourselves on putting our customers before all other considerations. That's why our password manager is built to be intuitive, accessible and affordable. Keeper allows you to generate, store and seamlessly autofill strong passwords across any device you own – that's right – unlimited passwords on unlimited devices. If that weren't enough, our vault technology stores and encrypts your private documents, which can be accessed across all of your devices. Our premium plan, Keeper Unlimited, is only $2.50 a month (billed annually). Keeper provides best-in-class security that won't break the bank and given that it protects your passwords for your bank account, the value of Keeper is massive. We just don't believe that – our customers do and that's the most important thing to us.
Free Unlimited Password Storage
Never forget a password again. The average number of online accounts each person has doubles every 5 years. That is a lot of passwords to manage and remember, which is why Keeper offers unlimited FREE password storage for all users. Whenever a new service or website prompts you to create a new account, Keeper makes the process simple. Create and store new records without even leaving the website, and avoid the cumbersome process of having to navigate to another tab on your browser. Keeper does the heavy lifting for you.
Password Storage for the Whole Family
Reusing simple, easy-to-remember passwords is a huge problem. In fact, more than 81% of cyber breaches occur due to weak passwords. Hackers don't discriminate and target young adults as well as the elderly, stealing their identities, money and digital assets. Create unique accounts for the whole family and keep them safe from hackers with our family plan for as little as $5.00 a month.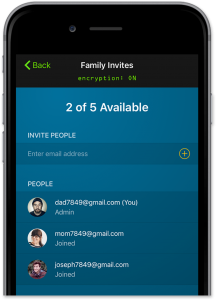 Autofill on Unlimited Devices
KeeperFill for Apps is a powerful and easy-to-use autofill feature that makes signing into your favorite desktop applications a breeze across both Mac and Windows. To enable, click "More" from Keeper Desktop, go to "Settings" and select "KeeperFill." Then define the hotkeys you would like to use to automatically fill your logins.
Our Browser Extensions are a powerful time-saving tool when on the web using your Mac or PC. Available on most browsers, our extensions enable advanced prompting for autofill, login, submit, save, and changing passwords.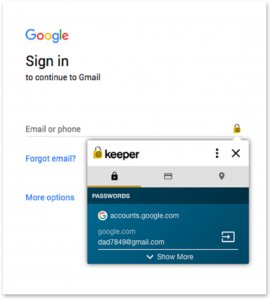 Additional Keeper Password Manager Features
Emergency Access

Security Audit for Improved Password Strength

Subfolders for Increased Organization

Secure Sharing (Vault to Vault)

Personalized Vault Themes

Instant Vault Backup

Self-destruct Protection

Zero-knowledge Security Architecture

256-bit AES Encryption

Biometric Login

Secure Messaging with KeeperChat
Keeper Makes Switching Easy – Quickly Import Existing Passwords!
Do you already use a password manager? Is your browser holding all your passwords? Keeper offers easy methods to retrieve your data from other products and import into your new Keeper account. Getting started is easy using our Password Importer to collect all existing passwords stored in Chrome, IE, Edge, and Firefox. Keeper automates the retrieval process and provides step-by-step instructions. Keeper also supports importing passwords from other password managers and formats. To access this feature, click on "Import" from Keeper Desktop.
It doesn't take a complete restructuring of your daily routine to practice good password hygiene. All it takes is Keeper.
Related Article: