Keeper continuously strives to make our customers' lives easier by ensuring our password manager is as simple and convenient to use as possible. We're excited to announce that we've added some major usability updates to Keeper that are designed to save our customers time.
Increased Security with Less Dependency on Master Passwords
Device approvals are an integral part of a zero-knowledge security framework, which requires that human users and devices are verified before they can access a network. Whenever a user attempts to log in using a device they haven't previously logged in with, the device must be approved before they are granted access. While Keeper has always supported device-based protection, version 15 of our mobile apps puts it front and center. Additionally, by reducing dependence primarily on Master Passwords and shifting towards device-based authentication, this update makes it more difficult for cybercriminals to "enumerate" user accounts.
Zoom In on the Password Field for Better Readability on Mobile Devices
Every once in a while, you're forced to manually type in a password, such as when you're setting up a streaming service on your smart TV, but it can be hard to read long, complex passwords on a small mobile screen. That's why we built our new Password Zoom feature. This lets you zoom in on a password field by pressing and holding, just as you would in any other application.
Double-Check your Work with Password Changed
Are you the type of person who likes to double-check things? We are too, which is why we've also added a new "Password Changed" screen. This displays both your old and new password after you make a change. This feature is currently available on iOS devices and will soon be available for Android users as well.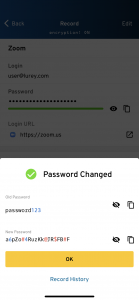 This video demonstrates the new Password Zoom and Password Changed features in action on iOS.
Resources
Download the latest version of Keeper for your device from:
https://keepersecurity.com/download
For detailed encryption model and security documentation, see:
https://docs.keeper.io/enterprise-guide/keeper-encryption-model
All release notes and updates can be found here:
https://docs.keeper.io/release-notes/
Not a Keeper Customer Yet?
Sign up for free now! Want to find out more about how Keeper can help your organization prevent security breaches? Reach out to our team today.