Using KeeperFill on Android
KeeperFill is an autofill feature that makes signing into your favorite websites and apps a breeze. While security and convenience are maintained across all versions of Android, your user experience may vary depending on the version of Android your device is operating on. KeeperFill for Android operates in one of three ways:
1. Autofill on Android 8+ (Oreo)
Android's most recent update, Android Oreo (also known as 8.0), introduced a new feature to the platform called "Autofill". Keeper integrates with Autofill to provide users a way to input login or payment information directly from your vault.
It's important to set Keeper as your default Autofill provider. To set this up, login to Keeper on your device and visit the "Settings" screen.
Note: Users familiar with using KeeperFill on previous versions of Android will be quick to notice the gold Keeper lock icon will no longer appear on the right side of your device. To activate this new version of KeeperFill, simply tap on any login field and Android Autofill will display automatically. If you're not currently logged into Keeper, simply press-and-hold on the login or password field and you'll be prompted with a button that says "Autofill". Tap the Autofill button to unlock your Keeper vault.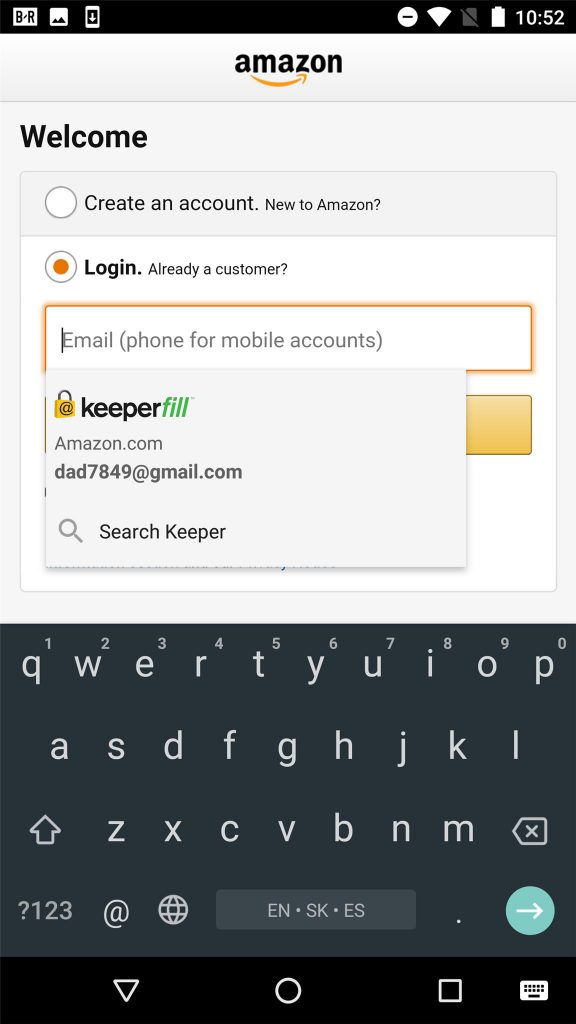 Get Keeper Unlimited & access all of your personal passwords on unlimited devices wherever you go.
2. Switching the Keyboard Manually
On older versions of Android (and even on the new Android Oreo), you can use our KeeperFill keyboard. Accessing the KeeperFill keyboard is either performed by tapping on the gold Keeper lock that appears on the right side of your screen, or simply switching to KeeperFill manually.
Google's Autofill capability in Android is very new. Certain banking apps and web browsers are not compatible. Google's engineers are actively working with many app providers to make their applications more compatible with this new system. In the meantime, when apps do not work with Autofill you can simply tap the "Keyboard Selector" on your device and select "KeeperFill" manually.
The location of this Keyboard Selector will vary depending on the device being used. For example, it could be on the bottom right of your device or in the notification drawer.
3. In-app
KeeperFill is also available within the Keeper app. Simply pull up your Keeper record and tap the URL. Keeper will autofill your login information from within our application.
We hope you enjoy the new KeeperFill capabilities and we welcome your feedback. If you need help, simply contact our support team on live chat or support@keepersecurity.com.