Keeper Security and LastPass are both password managers, but each solution offers unique user features and benefits. While LastPass has been around a bit longer, Keeper's innovative security technology makes it a top contender for businesses of all sizes, in every industry vertical.
What Is Keeper Security?
Keeper is a password manager that allows users to store online login credentials, documents, media files and other private information in an encrypted digital web vault. It eliminates the need for your users to memorize passwords and protects your business from data breaches and other password-related cyberthreats. Once Keeper is set up, the only password users have to remember is the master password they use to enter their digital vault.
Keeper is a zero-trust and zero-knowledge platform that also offers secure add-ons such as dark web monitoring, secure file storage, secrets management, advanced reporting and more. It rates highly across multiple password software review sites as a reliable and secure way to protect businesses in all industries. Millions of users around the world trust Keeper to secure their passwords and other sensitive data.
What Is LastPass?
LastPass is a password manager that allows users to store encrypted passwords in a digital vault. LastPass is a freemium service that offers a free basic package for individuals and a premium package for families and businesses.
LastPass is a popular password management solution, but how does it stack up against Keeper?
LastPass vs Keeper: Features Comparison
Plans and Pricing
Price is a key variable to consider when choosing a password manager. Keeper and LastPass offer competitive pricing for four base packages: single users, families, business teams and business enterprise.
Additionally, Keeper offers discounted rates for students, healthcare workers and members of the military. LastPass occasionally offers limited-time deals for education users, but does not offer ongoing discounts. Both platforms offer add-on services at an additional cost.
Data Protection and Security
Keeper is fanatical about customer data protection. We have the longest standing SOC 2 and ISO 27001 certifications in the industry. That means that Keeper has continuously demonstrated compliance with 114 information security controls and has implemented an Information Security Management System (ISMS) that meets the internationally recognized ISO standard. Our zero-trust framework and zero-knowledge security architecture protect users' personal information with several layers of encryption keys.

In comparison, LastPass' architecture only supports encryption at the vault level—making user information more vulnerable to cyberattacks. In 2015, LastPass suffered an attack that exposed its users' email addresses and security information.
Secrets Management
Businesses need to protect more than their employees' passwords. Keeper Secrets Manager is a cloud-based, zero-knowledge platform for securing IT infrastructure secrets such as API keys, database passwords, access keys, certificates and other highly privileged credentials.
As of this writing, LastPass does not offer a secrets manager.
Flexible and Seamless SSO Integration
Single sign-on (SSO) reduces password fatigue, minimizes help desk tickets for lost passwords, and enhances efficiency, but it leaves organizations with security gaps.
Keeper SSO Connect® is a 100% cloud-based SAML 2.0 service that was designed to eliminate SSO security gaps. It seamlessly and quickly integrates with your existing SSO and passwordless solution—enhancing and extending it with zero-knowledge password management and encryption.
What Is SSO Integration
?
Keeper SSO Connect® is compatible with all popular SSO identity provider (IdP) platforms, including Office365, Azure, ADFS, Okta, Ping, JumpCloud, Centrify, OneLogin and F5 BIG-IP APM. Keeper SSO Connect® Cloud also integrates with all popular passwordless platforms, including Duo, HYPR, Trusona, Octopus, Traitware, Veridium and many more.
Simply by authenticating through their organizations' existing IdP, employees gain access to the Keeper password management platform and all its capabilities, including:
A secure digital vault that's accessible on virtually any device, running any OS.

Automatically generated passwords and autofill on all devices.

Desktop and mobile apps, plus browser extensions for all major web browsers.

Proprietary zero-knowledge encryption.
Customer Support
On average, customers have rated Keeper positively on a five-point rating system. Keeper meets or exceeds in comparison to the LastPass alternative across several review websites:
| Review Site | Keeper | LastPass |
| --- | --- | --- |
| TrustPilot | 4.4/5 (2,766 Reviews) | 1.6/5 (362 reviews) |
| Gartner Reviews | 4.5/5 (29 ratings) | 4.5/5 (143 ratings) |
| Google Play | 4.5/5 (95,205 reviews) | 3.3/5 (216,330 reviews) |
| App Store | 4.9/5 (158.7k ratings) | 4.5/5 (46k ratings) |
| GetApp | 4.7/5 (425 ratings) | 4.7/5 (2.3k ratings) |
*Ratings and reviews as of April 25, 2022.
In the 2020 G2 report comparing the Keeper and LastPass password managers, Keeper achieved higher customer satisfaction ratings in all categories, including:
Ease of doing business with

Quality of support

Local access

Remote access

Auditing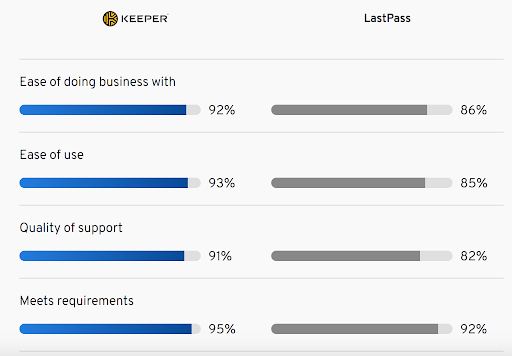 Source: 2020 G2 Report Product Comparison
Switching to Keeper Has Never Been Easier
Switching to Keeper literally takes less than one minute. Keeper includes a LastPass import wizard that seamlessly imports your LastPass records into your Keeper vault, on all your devices.
Keeper protects millions of individuals and thousands of organizations globally from password-related data breaches and cyberthreats. With a variety of packages and add-ons, organizations of all sizes and in all industries can find a suitable solution.
Get in touch with a member of the team to request a demo and switch to Keeper now.
---
Frequently Asked Questions
What is a freemium app?
"Freemium" is a combination of "free" and "premium." This is a business model where a company offers a free basic model in addition to a premium model at a cost. The premium model offers additional features and services.
Are free password managers safe to use?
Free basic password managers offer bare-bones password protection, typically limited to one user and one device. While free password managers are not "unsafe," these limitations are not realistic for organizations (and even many consumers). Investing in a premium service and additional security add-ons provides organizations with extra protection and functionality. For example, multi-factor authentication, secure file storage, the ability to use the password manager on multiple devices, and dark web monitoring are typically only available in premium packages.
I'm not sure which package is best for me. Can I create my own?
Of course! If none of the standard packages are fit your business' needs, fill out the contact form on Keeper's website for more information.
Is LastPass safe to use?
To ensure the security of its users' information, LastPass uses military-grade encryption (256-bit AES), enforces a zero-knowledge policy and provides multi-factor authentication (MFA) options. Though they have had cyberattacks in the past, the company has added additional security measures to prevent attacks from occurring again.
Has LastPass ever been hacked?
LastPass was hacked in 2015, leading them to make changes to strengthen their systems. Additionally, there was another incident in 2021 where multiple users received a notification claiming attempted unusual login activity. The company released a statement on its blog stating that there was "no indication that any LastPass accounts were compromised by an unauthorized third-party due to these credential stuffing attempts."
How to delete a LastPass account
The process of deleting a LastPass account varies depending on whether or not the user knows their master password. Deleting a LastPass account is irreversible, as it will completely delete all data, websites, notes and web forms associated with the user's account. For step-by-step instructions on the deletion process, visit the LastPass page on deleting an account.
How much is LastPass?
LastPass offers multiple packages, including a free basic package for individuals. Premium subscription packages start at $4/month for families and teams or $6/month for businesses. There is also an option to add extra features. Refer to the table in Plans and Pricing to compare LastPass and Keeper's pricing models.
What happens if LastPass goes down?
According to the company's website, if there is an outage, or systems go offline due to maintenance, data will be loaded and encrypted on the user's device. Once systems are back online, the data will be downloaded onto the LastPass servers again. Any web browser extension, desktop app or mobile app will default to offline mode. LastPass services can be logged into without an internet connection if a cached version of your data is available on your local drive.
What's the difference between the Keeper and LastPass extension in Chrome?
Both password managers offer a Chrome extension, which is available in the Google Chrome web store.

Once logged in, Keeper will ask to save the username and password for any site the user visits. The Chrome extension can auto fill information such as login details, payment card fields, billing and address fields, TOTP codes and more. It can also generate new passwords when users register on a new website. Read more about Keeper's Chrome Extension and its capabilities. Similar to Keeper, LastPass can also auto fill login information, addresses and payment details.
Is 1Password better than LastPass?
1Password and LastPass have been in the security tools market longer than most password manager competitors, making them popular choices for potential new users. Depending on the individual or organization's needs, both solutions offer features and benefits that make one the "better" choice over the other.

For people looking for a free option, LastPass would be the go-to choice since 1Password does not offer a free option. When it comes to encryption, both LastPass and 1Password use industry-standard 256-bit AES encryption with PBKDF2 password hashing for the master password. 1Password also adds a 128-bit secret key on top of the master password, while LastPass does not.

There are other differences between the two companies when comparing areas such as data storage, features and benefits, user experience and more. Look through the LastPass and 1Password service offerings to see which password manager better suits you and your business needs.