Keeper Password Manager & Digital Vault has long been established as the leading password management solution for millions of consumers and thousands of businesses. Over the years many managed service providers (MSPs) adopted Keeper's Enterprise product due to its security model, ease of use, and highly flexible administration capabilities. While Keeper Enterprise supported MSP operations, we were not satisfied and wanted to optimize the experience for our MSP partners — so we developed KeeperMSP.
KeeperMSP is the password management solution that MSPs have been waiting for and that helps secure their managed customers (a.k.a. tenants). It is the most robust password manager for protecting MSPs and their clients from password-related data breaches and cyberthreats. In addition to the world-class security and functionality, KeeperMSP includes better support in a revised the Admin Console, new licensing options, monthly billing, and generous volume pricing terms.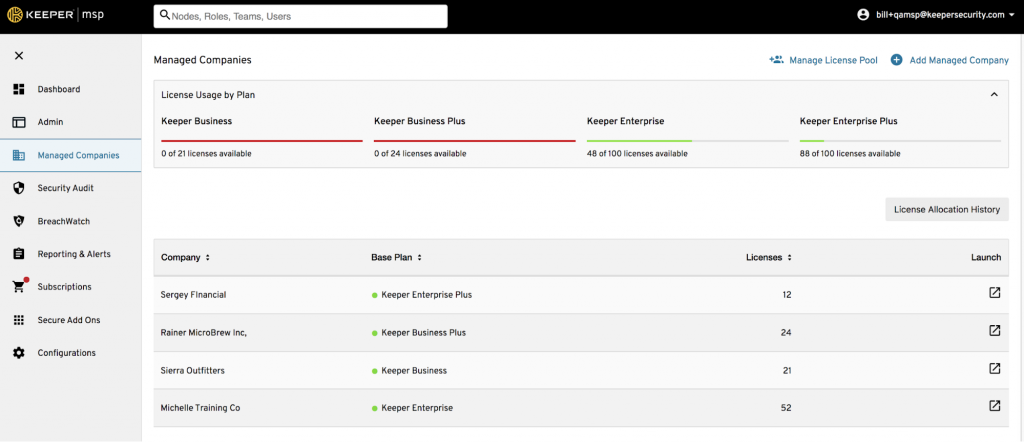 KeeperMSP Product Features
KeeperMSP includes new features and functionality that are tailored to the specific needs of MSPs. These include:
A multi-tenant system that isolates all managed customers
Zero-knowledge private vaults for all users
Managed companies tab to easily add & manage companies variety of licensing plans to serve your internal staff and the diverse needs and budgets of your managed customers
Monthly billing that suits your business model
Flexible license allocation that allows for license re-use and provisioning from a central pool. License transactions are recorded in logs that are exportable to your billing system
Integration with Connectwise Control so MSPs can access their Keeper password vaults while logged into a customer's infrastructure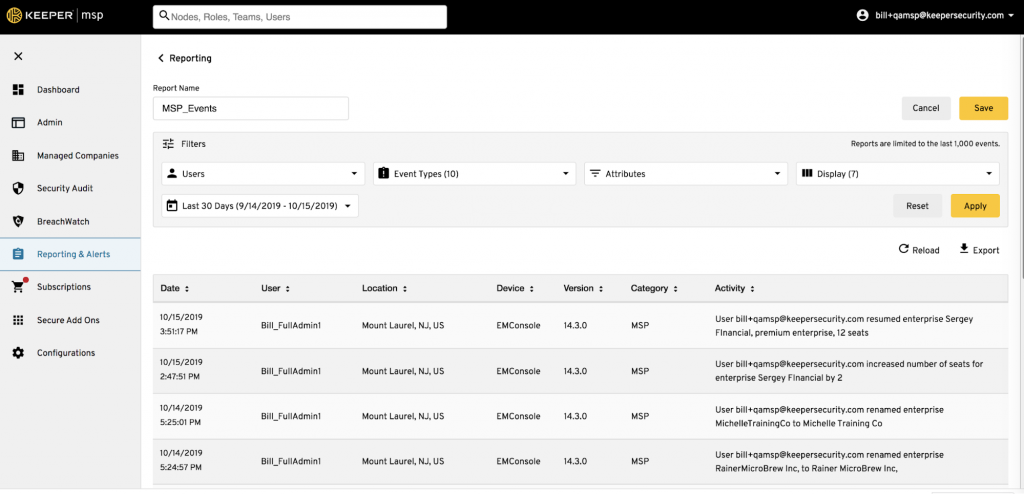 KeeperMSP Program Overview
We have partnered with ConnectWise, the market leading platform for MSPs, for improved interoperability. You can use Keeper within the ConnectWise Control to access passwords during a remote session. Further, KeeperMSP will be available for purchase in the ConnectWise Marketplace.
We believe that trust and partnership make up the foundation of successful MSP and software provider relationships. Thus, we are also excited to announce a new MSP Partner Program. All MSPs that create an account will have the ability to resell Keeper with their managed service, leverage Keeper partner branding, access all relevant enablement and education materials, and have the opportunity to join Keeper hosted events. Additional benefits are available to partners who meet the requirements for the higher tiers.
The design of KeeperMSP is based on extensive market research and feedback from our existing MSP partners. The solution provides technicians a tool for protecting and accessing both privileged information and the data needed to support managed companies.
Sign Up
Registering for the KeeperMSP Partner Program is easy. Fill out the brief application form , and we will contact you shortly to set up your free trial and discuss your needs.
If you are ready to set up your account, you are welcome to purchase and view details on the site yourself using this link. For more information on the program or the software, check out our KeeperMSP website https://keepersecurity.com/msp.