We're excited to let you know that KeeperChat® is now available for Business and Enterprise customers. KeeperChat provides private, hyper-secure messaging for your organization and can be activated in your Keeper admin console.
Text messaging has become the standard method of communication—far surpassing voice calls. Last year alone, 8 trillion text messages were sent worldwide which equates to approximately 22 billion texts per day. Text messages have become a major target for hackers because most often, people disclose sensitive and private information about personal and business matters. Noting that most people tend to keep their message history, the amount of information a hacker can collect and proliferate from text messages is enormous. Traditional native messaging applications and other productivity-related messaging applications are not, at their core, cybersecurity products. Most of them lack strong security layers for preventing access, don't encrypt message threads or attachments (at rest and in transit) and aren't zero-knowledge.
As working hours extend beyond a traditional 9 to 5 schedule, employee communication is increasingly conducted via texting and messaging apps. Most often, messaging is conducted on mobile devices, which are always at risk of being lost or stolen. In just the U.S. alone, over 5 million phones were lost or stolen last year. When a hacker gets physical access to a mobile device, the first section of the phone they analyze are the text messages. This is where droves of sensitive and private information are typically located. Too often, people send messages containing passwords, events, locations, project details as well as private images and videos. After reviewing messages, hackers then target your email, contacts and calendar applications.
Keeper has become the leader in creating zero-knowledge cybersecurity products for businesses and individuals. When your organization uses Keeper, an employee's Keeper vault protects passwords, metadata, files, photos and videos. With KeeperChat, we have expanded our platform to protect your employee's messages on all their devices.
Companies need a comprehensive communication and collaboration tool with the convenience of messaging apps, to access both inside and outside the office, with added control, privacy and usability features. KeeperChat is a zero-knowledge security messenger which lets businesses discuss and send private information in a secure and confidential manner. KeeperChat keeps conversations, files and photos in a completely private vault, separate from your phone's default photo gallery and is both FINRA and HIPAA compliant for use in even the strictest of workplaces.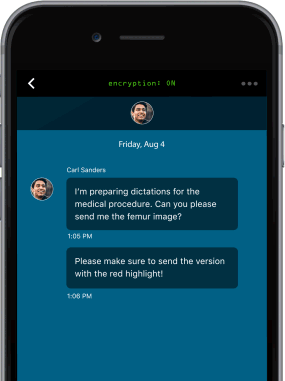 KeeperChat is fast, easy to use and far more secure than anything currently on the market. Just like Keeper's password management products, KeeperChat's zero-knowledge architecture means only the user has the ability to decrypt and access their information on their device. KeeperChat runs on a variety of devices and platforms used in today's workplace – Windows, Mac OS, Android, iOS. In addition to unmatched message security, KeeperChat keeps the user in control by providing the following:
Private vault for messages, photos and videos
Biometric login and self-destruct protection for vault
Zero-knowledge, encrypted security architecture
Message retraction and self-destruct timer
Unlimited devices and sync
Secure cloud backup
Group chats
Two-factor authentication
Keeper business and enterprise customers can manage and provision KeeperChat through their Keeper Admin Console. The admin console allows for rapid provisioning using a variety of methods, deployment, and management of employees. In addition to end-to-end encryption, you can set two-factor authentication and integrate with your preferred Single Sign-On solution giving you comprehensive control over access as well as insight into adoption and usage.
KeeperChat is fast, easy to use and far more secure than any other product in the industry. It protects your information with a zero-knowledge security architecture, multiple layers of encryption for data at rest and in transit, 256-bit AES encryption and PBKDF2 key derivation. KeeperChat is built using a zero-knowledge security architecture, meaning only the user has the ability to decrypt and access their information on their device. Keeper does not perform any server-side decryption – all encryption keys are generated client-side for on-premise key management and ownership, by the client.
KeeperChat also contains a library supporting a variety of two-factor authentication methods including Keeper DNA® (patented one-tap, proximity-based smartwatch authentication), Google Authenticator, RSA SecurID, DUO, Biometrics (fingerprint and facial recognition) and Secure SMS.
To learn more about KeeperChat or to purchase a plan, click here. If you would like to add KeeperChat to your existing Keeper subscription and activate this service for your end-users, please contact your account representative or email us at sales@keepersecurity.com.
Thank you,
Darren Guccione & Craig Lurey
CEO & CTO of Keeper Security